Do you send out email newsletters with Adestra?
Do you use WordPress to create and post your content?
Imagine sending test emails as you create them right from within WordPress, with no more copying and pasting content to create your emails. Now you can create Adestra emails within WordPress in just 10 minutes or less.
Watch the 5 min video to see how…
Does this Adestra workflow sound familiar?
Are you spending hours trying to copy text from you blog posts to the Adestra UI, or trying to add images that you posted online?
Or do you use Dreamweaver maybe, and then hope that the template you built in Dreamweaver will work on all the email clients you need it to?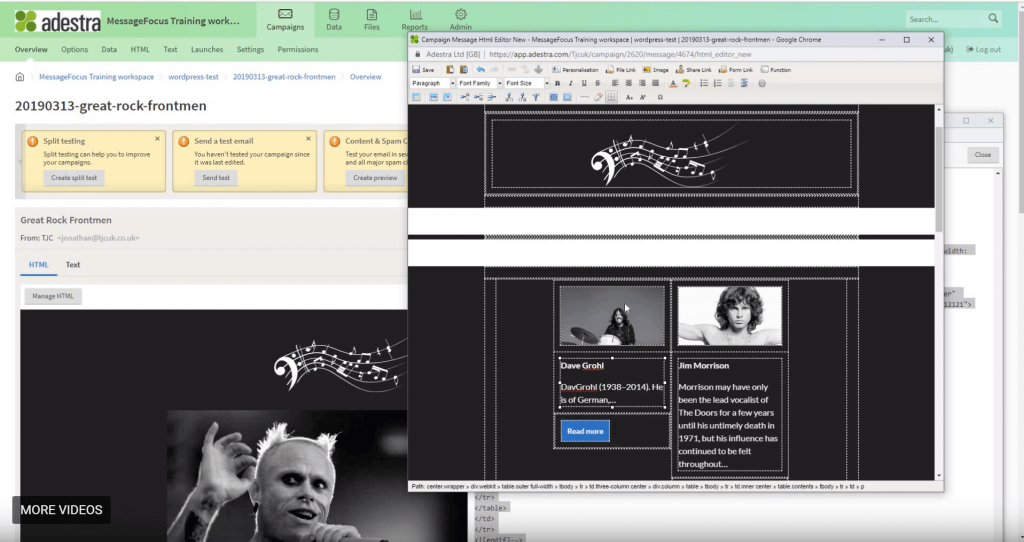 I created a WordPress site for video demo (see above) to honour Keith Flint from The Prodigy who recently passed away. It shows a number of front men from leading Rock bands.
Within 10 minutes I created this newsletter from within the site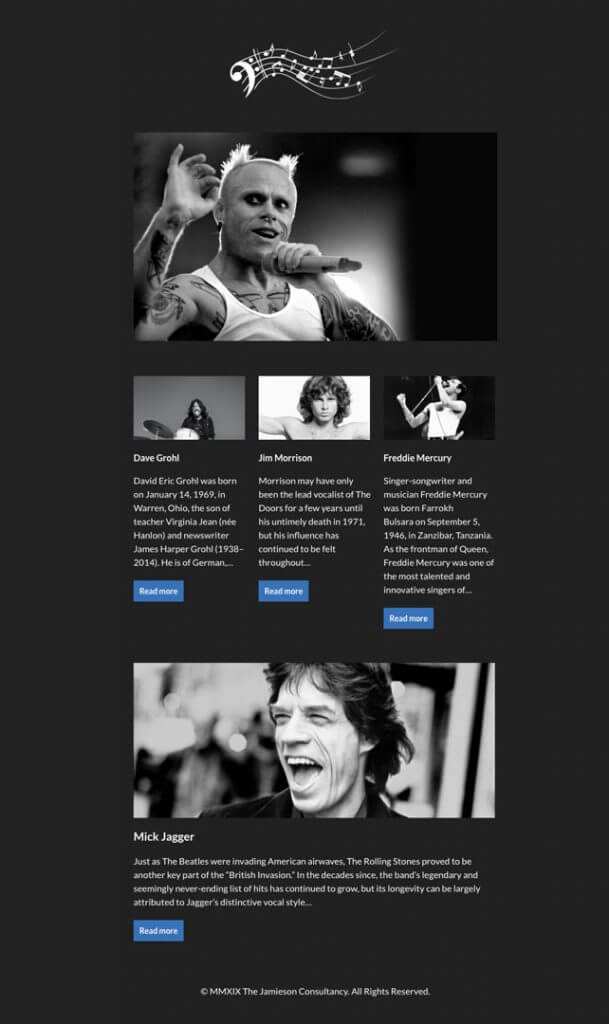 And it looks great on mobile too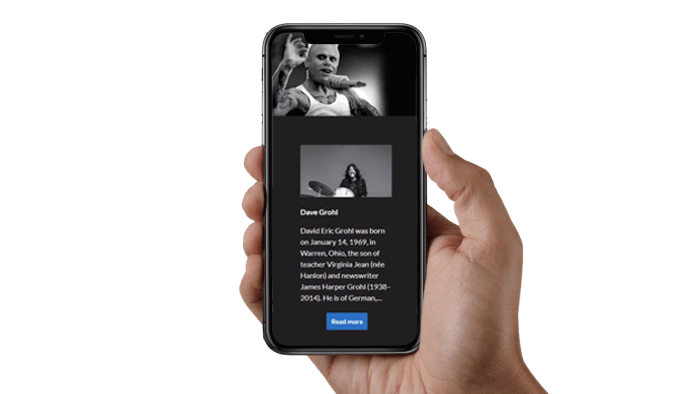 So let me show you how I did it
First you need to click here  and message us with "Can I have your newsletter plugin" and we'll help you out.
Then when you have got that, we will install it for you.
When you next go into your WordPress environment this is what you'll see…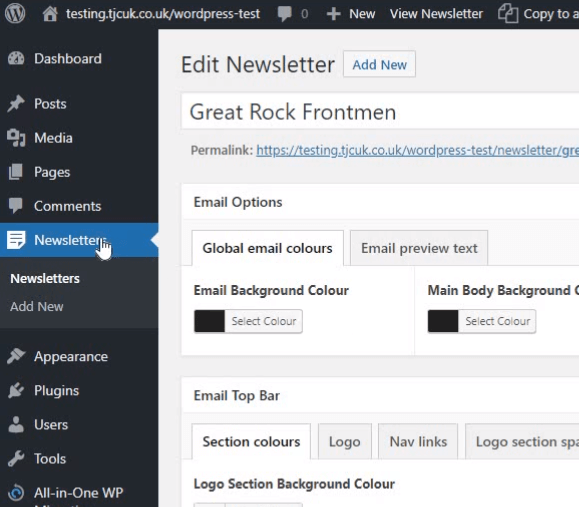 You'll have a new newsletters section and when you click on the newsletter section like I have here you can create a new one or select an existing one.
You'll notice there is an Adestra section right here inside your WordPress environment.
I used the colour scheme that was already provided and added my logo, went into the email body content area, and I added a single column.
After that I added the Kieth Flint post, and dropped any margins around it.
Then I went to a 3 column layout, chose my posts, checked the button text, and finally I added a single column area for Mick Jagger.
I chose where to put the image, and that it should be big, and then chose how long I wanted the excerpt to be at the bottom.
After doing that I named my Adestra campaign right inside WordPress. It grabbed the project directly from Adestra for me already, so I just needed to
click "update campaign" and it sent it straight to Adestra for me.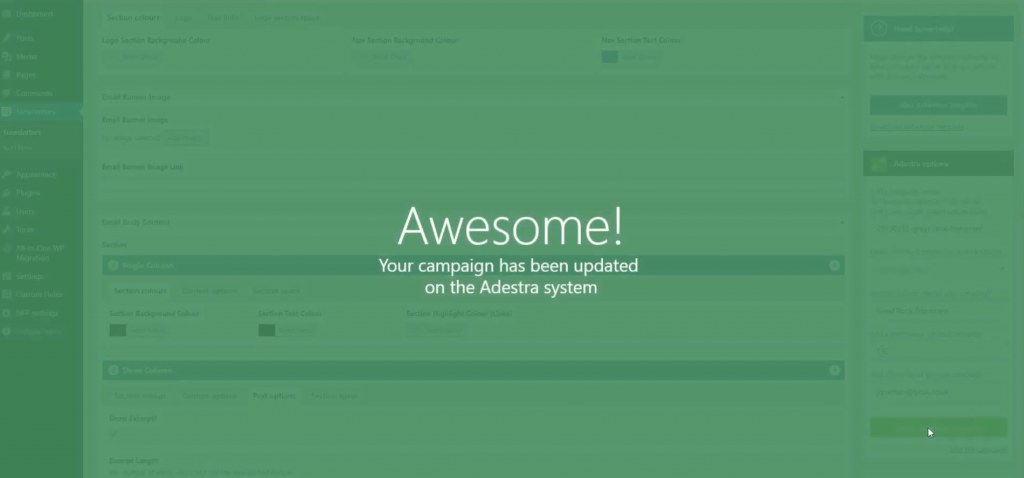 When I go to Adestra I can see its already added the mailing list that it needs to add, and its added the unsubscribe list that it needs as well.
I even have a text version that was generated for me from the plugin itself.
So all I need to do is hit "test and launch", or send a test email perhaps if I want to just check it first, and that's it.
Here is a quick summary of features
Pretty much everything inside WordPress
No more manually importing content from posts
Quick reference template
Include navigation links at the top of your newsletter
Add banner images
Include Call To Action blocks
One, two, three or four column sections
Image positioning options
All designed to work great with mobile
Now you can create newsletters right from within WordPress
Plus get these extras as well
Include Google fonts
Choose excerpt lengths
Combine a large number of layouts
All designed to work great for all major email clients
Get you email newsletters created in minutes and not hours.
Don't forget to click here and reach out to us.
Adestra users often experience these issues
Uploading, cropping and configuring images to Adestra/Dreamweaver
Copy and pasting titles, content and links multiple times
There's no way of sending emails from Dreamweaver/text editor to test in your email client.
Responsive design
Testing across multiple email clients
Our plugin handles all of these issues, and so much more.
Tons of options for customising colours, spacings, columns and content!
Custom options for testing, previewing and sending to Adestra, built right in the WordPress post edit screen!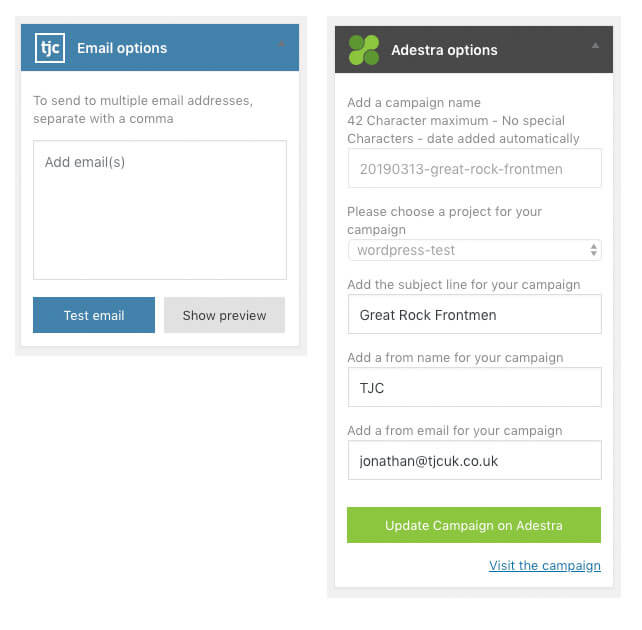 Don't forget to click here to reach out to us.