In part 1, we looked at how our website's structure plays a role in our digital marketing strategy and this is a great place to start when conducting an audit, but how do we measure whether the hard work we put into the first part of our audit has paid off?
Like many others, I'd say a reliable way to measure the success of our website is to measure its traffic metrics.
How can I measure my website's traffic?

Website traffic can be a somewhat overused term. For this blog post, I'm going to define traffic as "the Users/Visitors to our website and the behaviours which they exhibit". Taking a deep dive into the ins and outs of website traffic is outside the scope of this post, I may come back to that at a later date, but it's still useful to analyse your traffic at a relatively superficial level.
In this blog post, we'll take a brief look into some of the areas of website traffic analysis, and how we can use the insights we gain to improve our digital marketing strategy.
A useful metric to assess first would be our traffic channels (also known as acquisition channels). Visitors can come to our websites in a variety of ways. A traffic channel is one specific inward flow of traffic, from a particular medium, such as email click-throughs, or organic traffic.
Some commonly measured website traffic channels
● Organic Search – this is where visitors come to your website through the Search Engines result's pages, which are returned when they enter their query into Google, Bing, DuckDuckGo or whatever they use.
● Direct – Users visit your website by typing the URL directly into their browser's search bar.
● Social – Users click through to your website from a social media platform post or ad.
● Email – Click-throughs from Email Marketing campaigns, or email signature links.
● Referral – Visitors who come to your website from links on another website.
Let's look at an example breakdown for traffic channels measured over a month: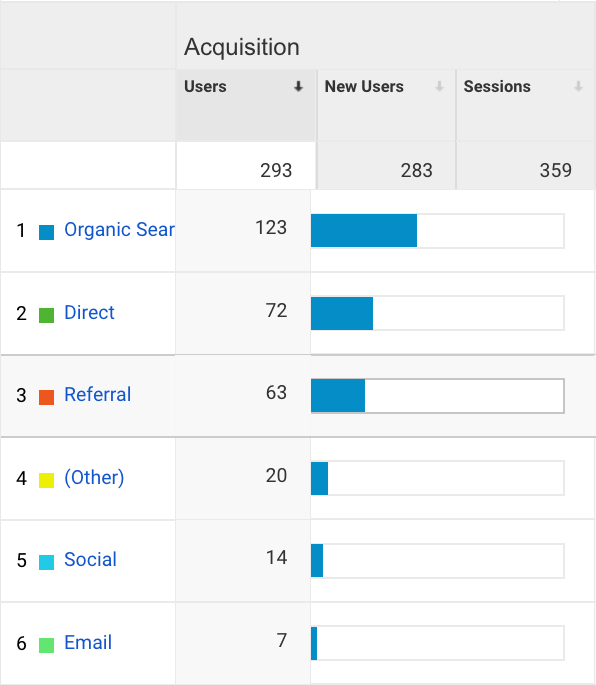 Looking at these figures, month-on-month is particularly useful for anyone who is keen to understand how people find their website and wants to improve engagement.
Why is assessing our traffic channels important? 
This brings us to the first key point of this blog post. All we've done here is leveraged an analytics tool and allowed it some time to gather real-time data from your website. The payoff is some very clear and useful feedback on which of your digital marketing strategies is doing a good job of encouraging people to visit your website, as well as which strategies could use a re-think.
In this example, you might feel that email engagement is low so maybe it's time to spruce up your team's email signatures or plan out a fresh batch of email marketing ideas. Social media engagement is also low. Well, it could be a good time to take a fresh approach to your social media posts and the content you're offering your audience.
Analysing your website's traffic channels is useful if we want to understand how people find our website. This can be of particular interest to those who are putting lots of effort into being found in Organic listings.
How can I see my website visitor's behaviour?
In the competitive world of the web, getting visitors onto your website is only half of the story. Wouldn't you just love to know which pages are most popular? How long visitors spend on there? If I wanted more people who visit my website to become a customer, I certainly would.
User behaviour metrics are also of high importance to the search engines themselves. They're some of the many variables which search engines consider when they decide how reliable and relevant a source of information your website is.
Let's take a quick look at an example display of some usage metrics for an overall website.

The easiest metric to start working with here is a user's Avg. Time on Page, it's also fairly obvious why this would be important. If you've gone to all the hard work and potential expense of planning and implementing high-quality content for your site, you'll want people to spend time looking at it.
If your users take the time to consume the content you're offering and hop around a few pages on your website, great! This is what the search engines want to see.
You may find the opposite seems to be the norm. People may come onto your site but don't stay too long… a clear sign that your website didn't resolve the problem or answer the question they were originally browsing the web for. Now could be a good time to think about how the structure of your website could be impacting on your user's experience (read part 1 for more information).
This brings us to our second key takeaway point: by taking the time to see how users are interacting with our website, it can very quickly inform us of just how effective the website itself is, straight from the horse's mouth (or user's clicks).
There's a pattern in these key-points forming here… it's all about feedback. And feedback is great. You can barely buy a loaf of bread in a supermarket today without being offered the chance to win something in return for your feedback. But websites are great like that, just set them up with your analytics tool of choice and it can give you some powerful insights into the successes and shortfalls in your digital strategy. No need to print out a hefty receipt and hope the customer takes the time to fill out the forms.
Conclusion 
Once we start to grasp an understanding of the statistics around our website's traffic, we can accurately assess if our websites are getting the traffic they deserve. If you so decide it isn't, it's already given you a picture of where to start with a plan of action.
Ideally what you want here is a tool that offers you insight into the metrics we've discussed in this post. Where your traffic comes from, how long users stay on your site and how many of the visitors convert (if that's your endgame). A great – and free – place to start with something like this would be Google Search Console, or Google Analytics if you're comfortable with interpreting larger amounts of data. (need help getting set-up? Speak to TJC, we'd be happy to help)
Our Website can be a focal point of engagement in our digital marketing strategy. It makes sense to be using analytics for quick and useful feedback into the engagement of your various digital marketing mediums. Said feedback can then be utilised to inform your decision-making about future development/enhancements to your digital strategy.
Speak to The Jamieson Consultancy about auditing your website by taking a few seconds and fill-out the form below.