The client, a start-up HR outsourcing firm  based in Hastings approached The Jamieson Consultancy, for branding exercises and a Web design in december 2019 aiming to establish their digital and physical presence throughout East Sussex by early 2020. The client needed the site in particular to be live by the end of January 2020, for their first business networking event.
TJC happily accepted the challenge, and rose to the occasion turning web and logo designs around inside of two weeks, allowing no drop in quality of the work produced. Once all design concepts were approved, we set-out creating the website, and sent designs off to print, all delivered in record time.
We helped our client establish an identity in their local market, supplying them an eye-catching logo, clean looking business cards, and a modern, contemporary website design which allowed them to handle enquires, advertise their services and draw attention to new promotions.
If you're looking for a new website or a redesign, speak to our Hastings Web Design team today
Where TJC really added value here was through applying our knowledge of modern search engine optimisation (SEO) practices, ensuring the website was structured correctly, could be readily discovered by search engines, and that the content was relevant to their keyword targets. Within 1 month the client's new website was ranking on page 1 of Google search results for multiple key search terms relating to human resources within the Hastings Locale.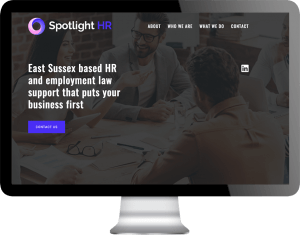 Find out more about Web design in Hastings